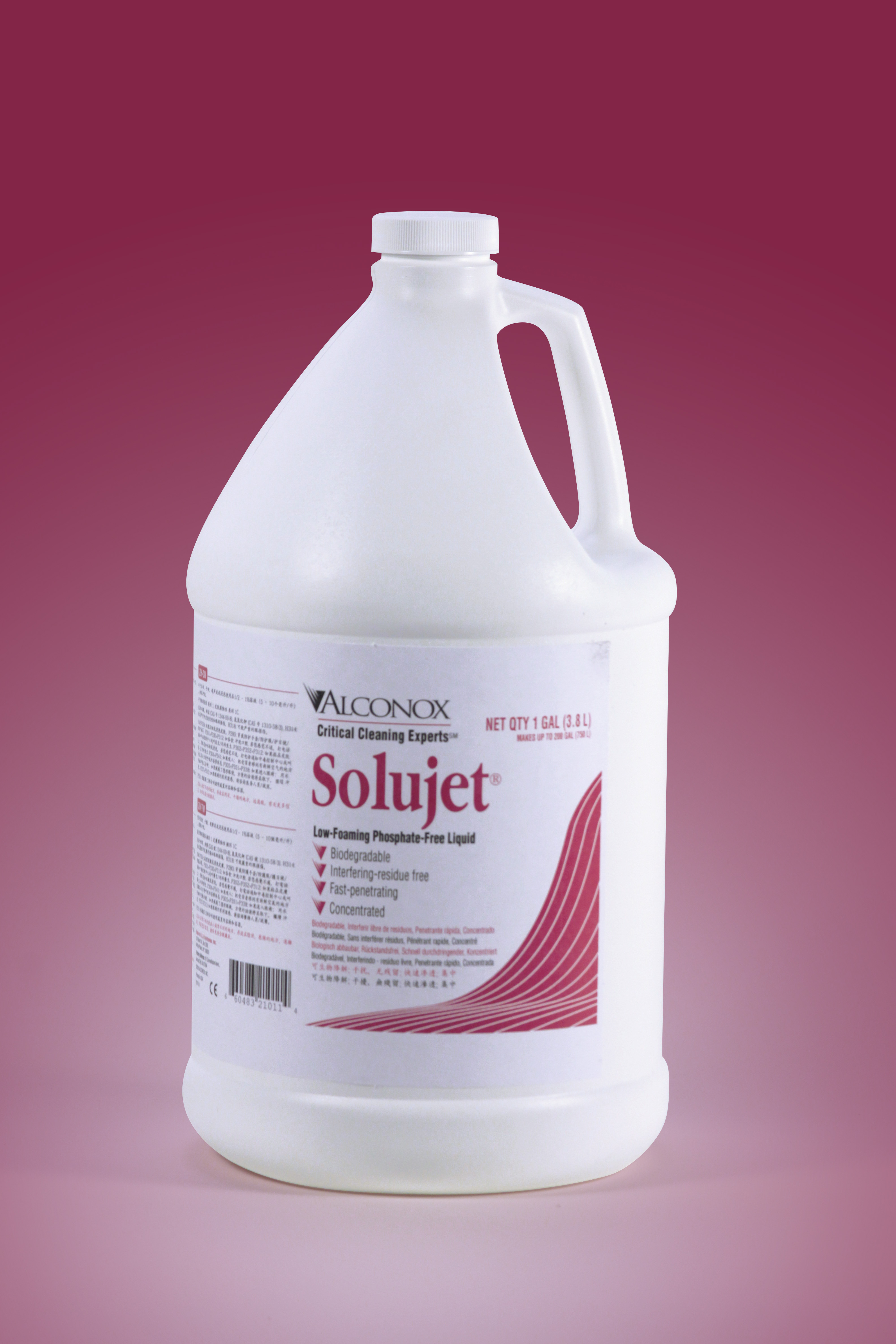 Solujet®Low-Foaming Phosphate-Free Liquid Detergent
Solujet cleaner is the detergent to consider for your next new pharmaceutical cleaning project or when you want to take the opportunity to improve when you are revalidating your existing cleaning system.
How does Solujet stack up to A LEADING CIP DETERGENT?
Unlike A LEADING CIP DETERGENT, Solujet has high wetting surfactants that enhance emulsifying, wetting, dispersing and rinsing. The surfactants allow faster, more efficient cleaning and easier rinsing.
Solujet is recommended for use at lower concentrations because of the more synergistic surfactant containing formulation of Solujet which does not rely as much on heavy alkalinity.
A LEADING CIP DETERGENT does not contain an effective wetting agent as seen by the high surface tension.
Both Solujet and A LEADING CIP DETERGENT are potassium hydroxide based cleaners with chelating agents.
Both Solujet and A LEADING CIP DETERGENT are phosphate free and both cleaners are DOT regulated corrosive liquids.
The pH of 1% Solujet never exceeds 12.5. The pH of 1% A LEADING CIP DETERGENT can go as high as 12.8 according to literature.
Although the potassium hydroxide content of the two cleaners is quite similar, by careful raw material and manufacturing quality control, the Solujet formulation is maintained such that a 1% solution will always be below pH 12.5.
| | | |
| --- | --- | --- |
| Product Comparison (1% Solution) | Solujet® | A Leading CIP Detergent |
| Contains high wetting surfactant | Yes | No |
| Based on potassium hydroxide and chelates | Yes | Yes |
| DOT regulated corrosive liquid | Yes | Yes |
| Phosphate Free | Yes | Yes |
| Recommended use Concentrations | ½% – 6% | 1% – 6% |
| Typical surface tension | 33 dynes/cm | 49 dynes/cm |
| Highest pH in a 1% solution | <12.5 | 12.8 |
Consider the use of Solujet for cleaning pharmaceutical manufacturing equipment before the next validation, revalidation or new product launch. Contact Alconox, Inc. for validation support to simplify adopting Solujet detergent.
To request this or any Alconox Inc. detergents for free, please complete the questionnaire at Get Sample. For more information about any one of our Alconox, Inc. detergents, consult the technical bulletin for each product. Or click here to access each of our detergent's Safety Data Sheets.
Do you have a critical cleaning question for the experts at Alconox Inc.? Search TechNotes to see if it's been answered before or Ask Alconox.
Contact us any time: cleaning@alconox.com