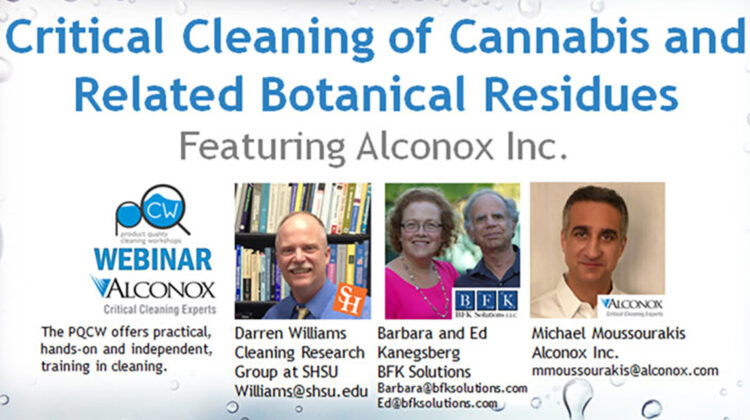 Mar 31, 2021 10:00 AM CST / 11:00AM EST (US and Canada): Please join Michael Moussourakis, Senior Director, Strategic Affairs, Alconox Inc., and the incredible experts at PQCW for a FREE engaging webinar and discussion!

The Product Quality Cleaning Workshop team and Michael will discuss the success of Alconox Inc. in supporting the equipment cleaning needs of the botanical extracts industry.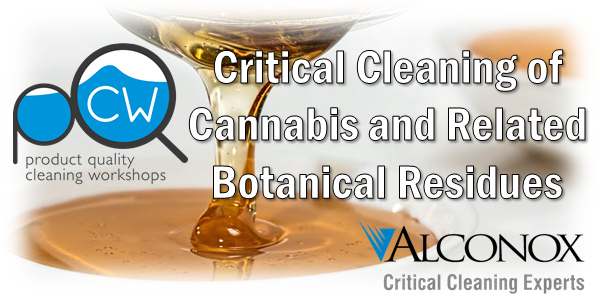 The PQCW Team of Barbara and Ed Kanegsberg, and Darren Williams interview Michael and learn about cleaning some uniquely stubborn residues, including of course cannabis residues.
Registration is free of charge. Great for analytical laboratory technicians, quality specialists, scientists and engineers working with cannabis and other botanical residues requiring critical cleaning without the hazards and costs of dangerous solvents.
Basic cleaning concepts, detergent chemistry, and case studies on removing botanical and cannabis residues are covered.
As always, to request any Alconox Inc. detergents for free, please complete the questionnaire at Get Sample. For more information about any one of our Alconox Inc. detergents, consult the technical bulletin for each product. Or click here to access each of our detergent's Safety Data Sheets.
Do you have a critical cleaning question for the experts at Alconox Inc.? Search TechNotes to see if it's been answered before or Ask Alconox.
Contact us any time: cleaning@alconox.com