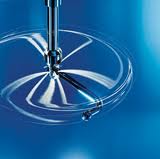 Q. What are the differences between Static and Dynamic spray balls in CIP machines What detergents should we go with?
A. The typical considerations in using either static or dynamic spray balls in CIP (clean-in-place) are that static spray balls can be placed strategically within a tank to try to assure spray contact with all sides of various mixing apparatus inside the tank.
Static spray balls typically rely on a high-volume, low-flow cascading cleaning action wherein much of the mechanical energy comes from the sprayed-on solution running down the sides and surfaces of the tank being cleaned.
In contrast, dynamic spray balls have low-volume, high-pressure spray with the spray nozzle spinning around while simultaneously rotating to direct a jet of spray to all interior surfaces of the tank. Dynamic spray balls have more mechanical energy applied during cleaning. There are concerns with the possibility that dynamic spray balls can jam up and stop rotating or stop spinning during a cleaning cycle. Dynamic spray ball manufacturers are continually developing better sensors that monitor the performance of the spinning and rotating to be able to document and verify correct performance.
When designed and installed properly, both kinds of spray balls can provide reliable cleaning. Cleaning validation efforts will of course verify the CIP cycle's reliability and reproducibility.
Note: When using CIP systems with either static or dynamic spray balls in large tanks and mixers, Alconox Inc. recommends using low-foaming detergents such as alkaline Solujet® Low-Foaming Phosphate-Free Liquid and acidic Citrajet® Low-Foam Liquid Acid Cleaner/Rinse.  And where required, both (ex. large molecule processing, biofilm control, etc.).  These detergents are drain-safe, biodegradable, and without brighteners, dyes,  fragrances or filming corrosion inhibitors.
For more information about the use, validation and selection of detergents for biopharma, cosmetic and botanical cleaning, please visit Alconox.com.
To request an Alconox Inc. detergent for free, please complete the questionnaire at Get Sample. For more information about any one of our Alconox Inc. detergents, consult the technical bulletin for each product. Or click here to access each of our detergent's Safety Data Sheets.
Do you have a critical cleaning question for the experts at Alconox Inc.?  Search TechNotes to see if it's been answered before or Ask Alconox.
Contact us any time: cleaning@alconox.com