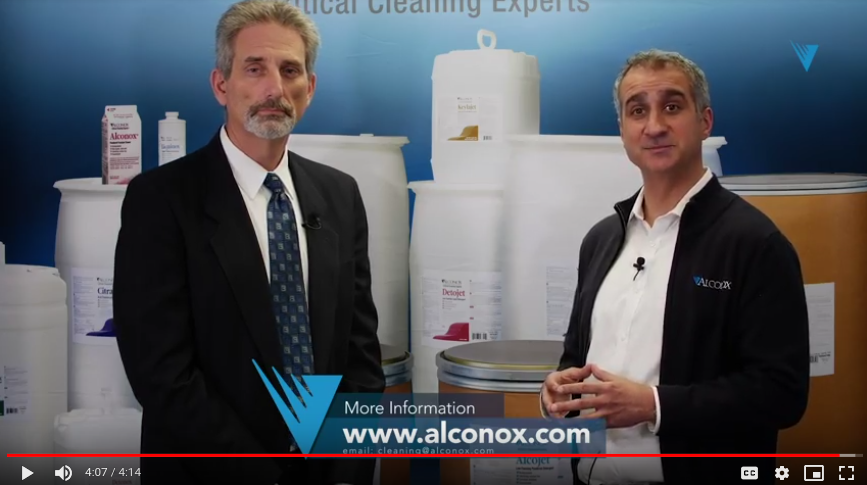 Mike Auerbach, Editor and Chief of American Pharmaceutical Review, spoke to Michael Moussourakis, Senior Director, Strategic Affairs at Alconox Inc. They discussed the unique cleaning challenges facing Pharmaceutical, Cosmetic and Cannabis manufacturers and the innovative solutions offered by Alconox Inc.
Auerbach: I understand Alconox has gotten into some sticky situations lately. Can you tell me more about those?

Moussourakis: Cannabis is a resin that is sticky and waxy and poses unique challenges for cleaning. Manufacturers care about their reputation as providers of a natural and green drug, so the need for biodegradable, residue free detergents comes in handy. We are involved with the growers, dispensaries and extractors providing not just green detergents, but advice and guidance for cleaning best practices.
Auerbach: As more Pharmaceutical products come online, do they pose new cleaning challenges? How does your company help companies with these new challenges?
Moussourakis:  In cosmetics, for example, bases they use and regulatory requirements are constantly changing. Detergents of the past that were sufficient are not always sufficient now. They are often required to obtain a higher level of cleanliness. We are out in the field communicating with them and discovering what their needs are, so we can have our R&D scientists ready to manufacture what's needed and make sure the detergents work well.
Learn More. Watch the full interview: 
To request an Alconox Inc. detergent for free, please complete the questionnaire at Get Sample. For more information about any one of our Alconox, Inc. detergents, consult the technical bulletin for each product. Or click here to access each of our detergent's  Safety Data Sheets.
Do you have a critical cleaning question for the experts at Alconox Inc.?  Search TechNotes to see if it's been answered before or Ask Alconox.
Contact us any time: cleaning@alconox.com