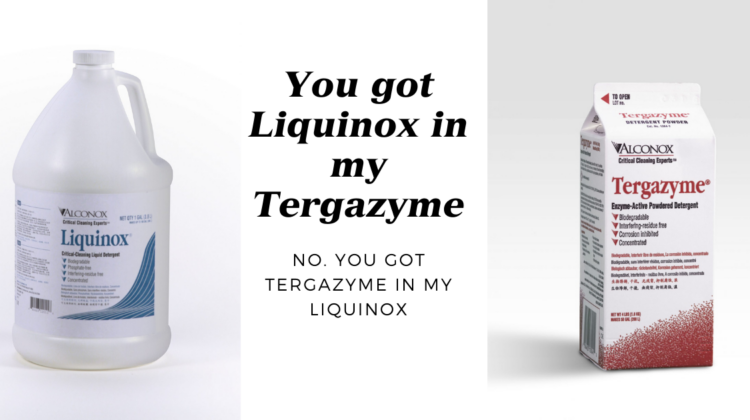 Q: We have an array of tough proteinaceous and oily residues. I am considering adding a non-ionic surfactant like Triton X-100 to a normally prepared solution of 1% Tergazyme, is there any data about whether or not that would damage the enzyme? Is it a way of improving Tergazyme?
A: We can do you one better! Try adding Liquinox® Critical Cleaning Liquid Detergent! We have experience with customers adding Liquinox to Tergazyme solutions because Liquinox cleaner adds a nonionic surfactant (like Triton X-100) to the Tergazyme solution. This gives mixed anionic + nonionic surfactant micelles that are expected to give better oily soil emulsification and removal. We would expect no adverse reaction to adding Triton X-100 or Liquinox to a Tergazyme solution. We expect that adding Liquinox would work even better than just Triton X-100 alone as Liquinox has a better, more synergistic and lower surface tension blend of nonionic surfactants than just Triton X-100. A 0.5% Liquinox plus 1% Tergazyme would be a very good blend and a highly effective detergent on oily residues that have proteinaceous components as well.
Some tougher applications require 2-3% Tergazyme detergent. In such cases you can add 1% Liquinox.
The concept of adding detergents together is a powerful one. Individually, Alconox Inc. detergents are synergistic blends. Adding certain detergents together can be even more potent. For example, enhancing removal of biologic residue. If you have an unusually tough residue, contact us to discuss if this might be a good approach!
To request these or any Alconox Inc. detergent for free, please complete the questionnaire at Get Sample. For more information about any one of our Alconox Inc. detergents, consult the technical bulletin for each product. Or click here to access each of our detergent's Safety Data Sheets.
Do you have a critical cleaning question for the experts at Alconox Inc.? Search TechNotes to see if it's been answered before or Ask Alconox.
Contact us any time: cleaning@alconox.com