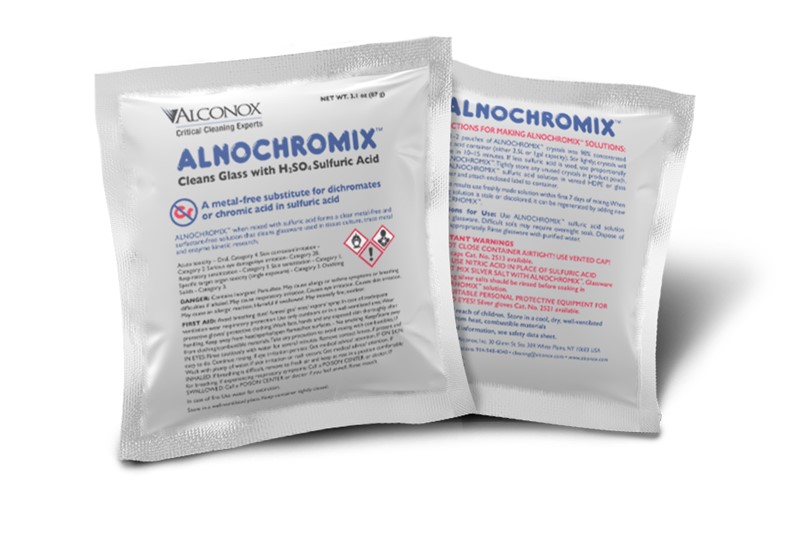 Q: I understand that Nochromix is no longer available and I am to contact Alconox Inc. for a replacement?
A: That is correct. Godax Laboratories has discontinued NOCHROMIX® cleaner. You may reach them at Godaxsales@gmail.com. Note all NOCHROMIX® packages have a 2 year from the date of manufacture shelf life. The date of manufacture can be found printed on each packet.
Alconox Inc. bought the formula to NOCHROMIX® cleaner and is manufacturing the identical product under the name Alnochromix® oxidizing additive to sulfuric acid for glassware cleaning.
Alnochromix cleaner is a concentrated inorganic persulfate based additive to sulfuric acid to make a metal-free and surfactant-free glassware cleaner that is excellent for cleaning glassware used in tissue culture, trace metal, and enzyme kinetics research; as well as other sensitive glass cleaning applications. It is a nonmetallic, non-carcinogenic, and an easier to dispose replacement for chromic acid. Pour 1-2 pouches of Alnochromix crystals into 98% concentrated sulfuric acid container (very typically 2.5L or 1 gal capacity).
The catalog numbers are:
2510 – 1 box 10 X 3.1 oz (87 g) pouches
2540 – 4 boxes of 10 X 3.1 oz (87 g) pouches
2512 – 12 boxes of 10 X 3.1 oz (87 g) pouches
Please contact us for your specific application and cleaning needs, or any questions! Or simply to see if Alnochromix cleaner is right for you.
To request this cleaner or any Alconox Inc. detergents for free, please complete the questionnaire at Get Sample. For more information about any one of our Alconox Inc. detergents, consult the technical bulletin for each product. Or click here to access each of our detergent's Safety Data Sheets.
Do you have a critical cleaning question for the experts at Alconox Inc.? Search TechNotes to see if it's been answered before or Ask Alconox.
Contact us any time: cleaning@alconox.com